Lead Time:
This indicates the estimated shipping lead time.
Health Assurance Software
Newest tool in Aviat's Assurance software suite, HAS is advanced analysis software
Rapid troubleshooting reduces or eliminates the cost of network outages
Avoid time-consuming routine manual network analysis with Automated monitoring
Extremely intuitive, no need for deep microwave expertise
Powerful map-based tool, unlike other solutions that must be used by engineers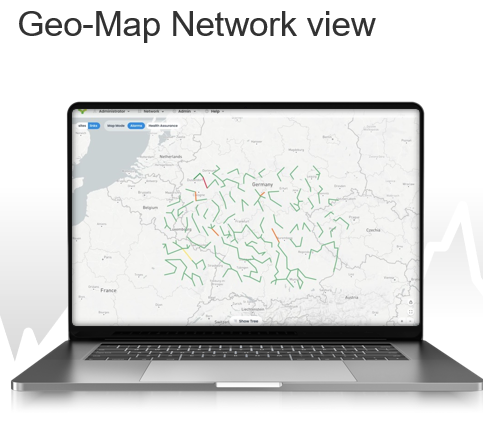 HAS shows the exact location of network problems to identify problem links proactively.
How HAS Works:
The HAS module implements a system that detects performance anomalies in the radio links.
The algorithms operate while the radio links are on-line and without having to stop the ongoing payload transport, and they make use of parameters present in the radio modems and radio frequency units to determine when performance anomalies are present.
High resolution PCR data available for key modem and radio frequency unit parameters is automatically downloaded periodically from the radios and processed by the HAS system that detects and classifies the problems.
The Health Assurance Configuration view provides you with the ability to configure the settings associated with detection of the following Health Assurance anomalies:
Availability
Extended Fade
Low Modulation
Modulation Availability
Dribbling Errors
Interference
XPIC Cancellation

The Health Assurance View provides you with the following capabilities:
Network Summary indicators for the overall availability, mean utilization, mean congestion, and number of performance anomalies over the user selected period.
Focus Lists identifying the numbers of radio links with performance episodes, and the ability to analyze the list of links by the type of episode, i.e. availability, utilization, congestion, or performance anomalies.
Focus List identifying radio links designated as undergoing maintenance.
Quick access to the Radio Link Health Trends view for a selected radio link.
Quick access to scheduling a Health Assurance Report for the network.
Specifications

| | |
| --- | --- |
| Contract Duration | 12 |
| Contract Duration Period | MNT |
Each equipment, services and software purchased from Aviat Networks carries with it a commitment of excellence backed by Aviat Networks' industry-leading warranty policy. All Aviat Networks warranties apply to the Customer or Original Owner also referred to as the end user.

"Final Acceptance" means testing of the Equipment following installation by Aviat Networks at Customer's site(s) under the terms set forth in the Statement of Work and may be performed on a link by link basis, or when live traffic is cut over, or when the Customer has beneficial use of the Equipment, whichever occurs first. The following table provides the coverage duration for the types of warranties applicable. Please refer to your product ordering guide for the applicable warranty policy for that equipment, service or software.
EQUIPMENT/SERVICES/SOFTWARE
WARRANTY
Aviat Networks Equipment Standard
Hardware Warranty – U.S.A, Canada and the Caribbean

24 months from ship date.
Aviat Networks Equipment Standard
Hardware Warranty – Rest of the World
15 months from ship date.
Non-Aviat Networks OEM Equipment

OEM warranty is a pass-through from Aviat Networks from the ship date; maximum OEM warranty.