Aviat Networks is proud to offer logistics services to meet your business needs.
Aviat Store orders are primarily shipped the following:
Expedited Air shipments, largely via UPS
Ground shipments less than 150 lbs will ship via UPS
Ground shipments 150 lbs and over will ship via by AIT Worldwide
Aviat Networks reserves the right to select carriers/modes of transportation necessary to meet business or service level requirements and we may contact you with additional shipping charges.
Our order processing and fulfillment team works hard to process and prepare your order for shipment as soon as possible.
To accommodate for carrier pickups, our general guidelines are as follows:
"Next Day" qualifying orders placed before 1PM CST, usually ship the following business day
"Next Day" qualifying orders placed after 1PM CST, ship within the next 2 full business days
Shipment status can be tracked on the Aviat Store and via our partner portals.
Your order confirmation, shipment notices, and packing slips are emailed to the primary email address we have on file for your account at the time when your order is placed. Aviat reserves the right to bill the consignee/customer/purchaser for additional shipping and handling charges/fees/surcharges imposed by a carrier and incurred by Aviat in conjunction with delivering the shipment to the consignee/customer/delivery address/purchaser. These charges, fees and surcharges include, but are not limited to: Additional Handling (AHS, AHS-Dimensions, AHS-Package, AHS-Weight), Address Correction (per package), Attempted Delivery, Life-Gate, etc.
Please note that we occasionally ship from multiple fulfillment centers/warehouses and that your order may arrive in multiple boxes and at different times.
Please note that there are restrictions on some products and some products cannot be shipped to international destinations. Delivery times to destinations outside of the continental lower 48 States may vary, depending on the destination country/state, carrier/service chosen, customs clearance, and government agency regulations.
Split Shipment
Aviat Networks shall have the right to make shipments in more than one lot, and payment for each lot shall be due accordingly.
Terms:
Unless otherwise stated in the Agreement, all prices and terms are F.O.B. origin for domestic shipments (within the United States) or 'Ex-Works' (Incoterms 2020) for international shipments (outside the United States) and are exclusive of freight charges. Shipping charges to Customer's destination will be added to the Aviat Networks invoices. The method of shipment will normally be determined by Customer's Order, but if no carrier or method of shipment is specified, Aviat Networks will select a carrier as a convenience to Customer.
Prepaid & Bill:
Freight charges are agreed upon booking based on our freight quoting tool. Aviat Networks will incur any additional costs beyond this value, if necessary. Aviat Networks Store routing guide is followed for ship methods unless otherwise specified.
Prepaid & Add:
Freight charges are determined at the time of shipment and invoiced with the equipment. Aviat Networks Store routing guide is followed for ship methods unless otherwise specified.
Collect:
No freight charge from Aviat to the customer. Aviat Networks will follow specified routing guide in customer PO. At the time of shipment, the logistics team will reach out with freight details to arrange pick up. From the time of notification, there's a 1-week (5 business days) buffer for collection before additional charges will be considered (i.e. restocking fees, holding costs, etc.). Our primary warehouse is in Austin, TX but we may have additional pick-up locations in continental U.S. Each location will have manpower to load carriers accordingly.
Ex: Multiple warehouses can and should be expected, usually all in Austin but not guaranteed. Customer is responsible for arranging freight, costs, and timely pickup.
UPS Lead Time Estimates: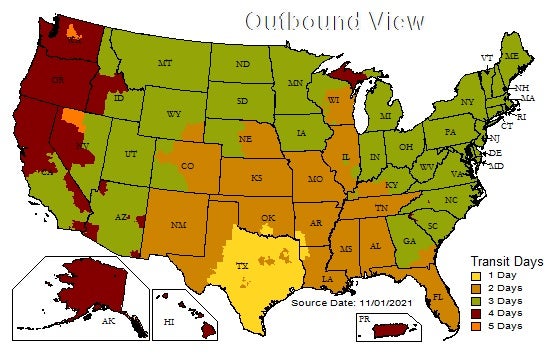 Known USA Holidays: New Year's Day, Martin Luther King Day, President's Day, Good Friday, Memorial Day, Independence Day, Labor Day, Thaksgiving Day, Black Friday, Christmas Eve, Christmas Day
Additional Terms, Conditions, and Policies may apply; Terms and Conditions of Sale, Return Policy, Privacy Policy.